Learn sewing and create your own stylish and original garments
No more rummaging through racks of clothing looking for a garment that will fit you properly and flatter you, learn sewing  and you can be the stylish individual you were meant to be.
We offer face-to-face sewing classes in our Narre Warren studio, catering for beginners (no experience necessary) and people with intermediate experience.
Our classes are small so you receive personalised attention whilst you learn sewing. By the time you complete a class, you will feel totally confident in your ability to create your own garment.
You will learn sewing on your own sewing machine and everything else is supplied in the Beginners course.
Intermediates can learn new skills or take a Pattern making class.
Over lockers can be scary but I will put you at ease in a private lesson showing you everything that your over locker can do for you.
Learn sewing in any of the following face-to-face classes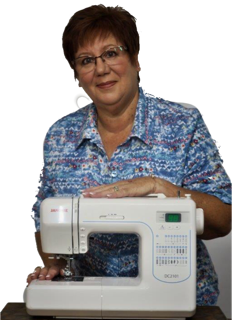 Would you like to enrol in one of my classes? Then I welcome you. Please visit my shop, select the course that best suits your needs and register your interest. You'll also find sewing starter packs and other accessories for the budding seamstress in my shop.
If you have any questions about my school and/or classes, please feel free to contact me on 0412 332 689 or send an email. I look forward to hearing from you soon.