The  beginners online sewing course has been designed for people who are unable to commit to a set time and date, cannot attend my face to face classes, or prefer to learn in their own time in the privacy of their own home.
It doesn't matter where you live as long as you have internet access. The course can be view on a desktop, tablet, laptop or a smart phone as many times as you like in a three month period. You will need access to a printer for printing PDFs.

Learning to sew online is easy
What you will learn:
General sewing tools and equipment
All about your sewing machine your sewing machine
Winding a bobbin and threading the machine
How to sew stitches, gathering, darts and zippers
 Measure yourself for a pattern, what size are you.
 Reading the back of the pattern
Buying fabric and haberdashery
Laying out a pattern on the fabric and understand its instructions
What pattern markings are and what they mean
 Hand sewing
Sewing on a button and buttonholes
And much more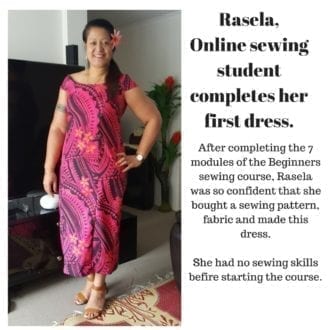 Skills and Confidence
By the end of this course, you'll have the skills and knowledge to confidently tackle sewing tasks you'd otherwise consider yourself incapable of performing. Feel inspired about not only learning to sew, but also about discovering what your sewing machine can do. Remove any sewing nerves with our very practical, structured and sequential teaching method.
Read our Frequently Asked Questions.
Want to take my online sewing course but don't have a sewing machine? Things you should know when buying a sewing machine link.
Look at what you will receive in your sewing pack
You will receive PDFs, including the pattern and fabric for your first sample project. Valued at $50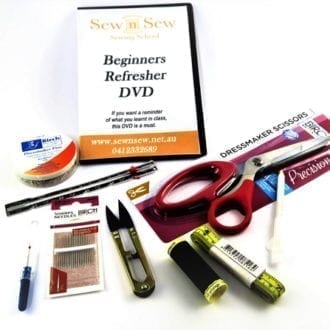 Sewing Starter Pack
Sewing tools pack which includes all the sewing equipment such as:
Scissors
Tape measure
Pins, needle
Quick unpick
Ruler
Cotton
Snippers
Refresher DVD to use as a reference in the future
Fabric samples pack which includes:
Fabric samples
Zippers
Buttons
1 metre of fabric for project
All that is required to complete the course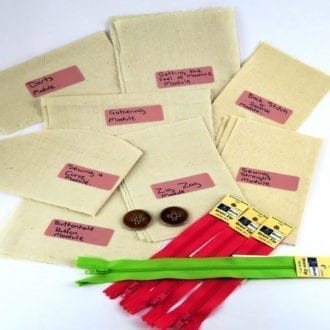 Fabric Samples Pack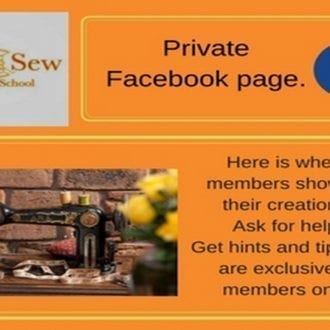 Facebook Group Access
with free monthly hints and tips
Sew n Sew Private Facebook group:
Lifetime access
Show off your creations
Ask questions
Receive hints and tips
Learn new skills from video lessons posted
All of the above for the low

cost of $199.00 
This course is an investment for a lifetime
What students say about our online course
"An extremely well constructed online sewing course with simple step by step instructions. For anyone who would like to be able to sew a garment from a pattern this course will definitely give you the necessary skills. It is methodical and moves slow enough that you can easily grasp the concepts and follow along. It was great having all the materials for the course with clear labels on the different pieces of the fabric in order to systematically achieve the various steps."
– Rebecca
"I would like to thank you so much for these classes online. You explained it all very well. I self used to sew my children's clothes and some simple pants for myself, but I took shortcuts and didn't think I needed to use the notches, darts etc. now I find it gives the best possible outcome and will sew properly all the time. Can't wait to start making more clothes. Thank you so much Christeen and the video taping is spot on too."
– Bronwyn
"I had completed gimmick classes, learning how to how to sew a bag and cushion cover, but no one actually covered all the necessary elements of garment construction, basic pattern understanding, cutting of patterns etc… until I found Sew n Sew. With each module focusing on a goal, I developed the skills and independence to try new things. Sew n Sew was a brilliant choice. The step by step video modules made the course easy to follow. If I had any questions Christeen was always ready to help via the private Facebook page and was quick to reply. The online sewing was a great success. I have completed a dress, a skirt and a pair of pj shorts."
– Jessica
Ready to enrol?
Would you like to enrol in my online sewing course? Then I welcome you. Please visit my shop, to browse sewing accessories for the budding seamstress and get started.
If you have any questions about my school and/or classes, please feel free to contact me on 0412 332 689 or send an email. I look forward to hearing from you soon.