Sale!
Beginners Online Sewing Course With Starter Pack (Inside Australia)
$199.00
20% off for a limited time.
Great Christmas Gift
This Course contains 7 Modules and 3 Bonus Modules
Total Value $1045 YOU PAY JUST $159  (Black Friday Sale)
The Sew n Sew beginner's online sewing course has been designed for people who are unable to commit to a set time and date, cannot attend my face to face classes, or prefer to learn in their own time in the privacy of their own home.
It doesn't matter where you live as long as you have internet access. The course can be view on a desktop, tablet, laptop or a smart phone as many times as you like in a six month period. You will need access to a printer for printing PDFs.

• General sewing tools and equipment
• All about your sewing machine your sewing machine
• Winding a bobbin and threading the machine
• How to sew stitches, gathering, darts and zippers
• Measure yourself for a pattern, what size are you.
• Reading the back of the pattern
• Buying fabric and haberdashery
• Laying out a pattern on the fabric and understand its instructions
• What pattern markings are and what they mean
• Hand sewing
• Sewing on a button and buttonholes
• And much more
By the end of this course, you'll have the skills and knowledge to confidently tackle sewing tasks you'd otherwise consider yourself incapable of performing. Feel inspired about not only learning to sew, but also about discovering what your sewing machine can do. Remove any sewing nerves with our very practical, structured and sequential teaching method.
Description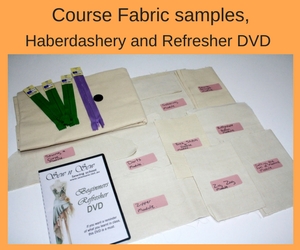 Fabric samples pack which includes:
• Fabric samples
• Zippers
• Buttons
• 1 metre of fabric for project
• All that is required to complete the course
Value $30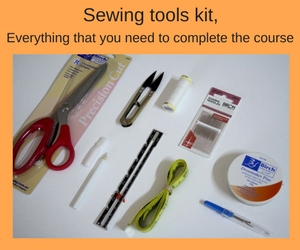 Sewing tools pack which includes all the sewing equipment such as:
• Scissors
• Tape measure
• Pins, needle
• Quick unpick
• Ruler
• Cotton
• Snippers
• Refresher DVD to use as a reference in the future
Value $60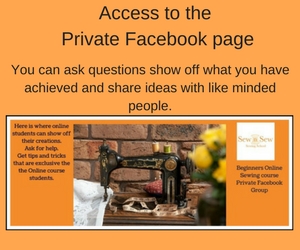 Sew n Sew Private Facebook group:
• Lifetime access
• Show off your creations
• Ask questions
• Receive hints and tips
• Learn new skills from video lessons posted
Value $650
Once you have paid you will be sent your pack with everything that is required to do the course.
DO NOT START THE COURSE UNTIL YOU RECEIVE THE PACK.
Only logged in customers who have purchased this product may leave a review.