Even if you've never used a sewing machine in your life, our cleverly structured beginner lessons will soon have you sewing like a professional. Our beginner sewing classes take you from beginner to expert. Learn on your own sewing machine and become confident enough to continue at home.
We won't just teach you how to read and follow a pattern. In fact, we won't even ask you to bring along a pattern and fabric to your first class. Instead we'll teach you how to read a pattern and how fabrics move, before you go out and buy both.
Once you master the basics, we'll  start teaching you all the insider secrets that dressmakers use to produce perfectly tailored garments.
What does the beginners sewing class cover?
It teaches you to:
Use your sewing machine
Sew darts and zippers
Do gathering
Sew buttonholes and buttons
Understand sewing terminology
How to size yourself so you can buy a pattern
How to read a pattern
How to lay out a pattern, understand what the markings mean
How to buy fabric and haberdashery
Sew hems
Hand sew
Plus much more!
What you'll need:
You need to bring your sewing machine.
If you don't purchase one of our sewing starter packs, which has everything that you need, you will need to purchase all the items yourself.
We provide everything else that is required in the course.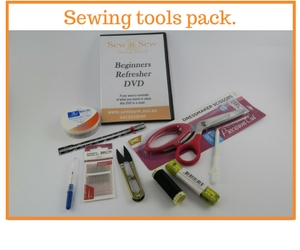 To purchase our sewing starter pack, please visit our shop.
We offer the following beginner classes at Narre Warren North
Feedback from our beginner students
"The class was great! I love the new techniques to make things easier and precise, the zipper and the gathering. I love your patience, organization and attention for each student in the class."
– Diva
"I really enjoyed the classes and the things that I learnt it was just what I was hoping for. The studio is so conducive for teaching and learning, and bringing a cuppa was a lovely touch."
– Rochelle
"I thoroughly enjoyed my first class! Your instruction is clear and very informative. Can't wait to come to the next class."
– Michelle
Kate explains why she chose Sew n Sew
Ready to start learning?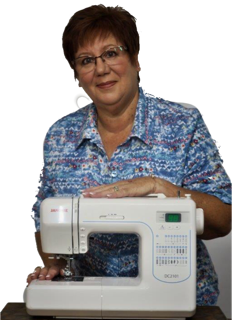 Would you like to start learning to sew in one of my classes? Then I welcome you. Please visit my shop, select the course that best suits your needs and register your interest. You'll also find sewing starter packs and other accessories for the budding seamstress in my shop.
If you have any questions about my school and/or classes, please feel free to contact me on 0412 332 689 or send an email. I look forward to hearing from you soon.