Tip No. 1
Sewing Machine Shanks
The sewing machine shank is the ankle that your sewing foot connects to the sewing machine.
There are 4 types of Shanks:
Snap on.
Low shanks.
High Shanks.
Slant Shanks.

When purchasing feet for your sewing machine you must be mindful of the type of shank that your machine has to ensure that you buy the right foot.
For instance:
Most presser feet that come with your machine are fairly flat and just snap on to the shank.
Walking feet or Darning feet are screw on.
How to Measure the your Shank Height
Here is how to figure out if your machine is a Low Shank or a High Shank.
With the presser foot in the down position, measure from the flat bed to the thumb screw.
Low Shank  machine measures about 12 to 13 mm (1/2 inch).
High Shank   machine measures 25mm (1 inch).
Slant Shank  machine are fairly rare and usually found on singer sewing machines.
Most modern machines have Low Shanks.
---
---
Tip No. 2
Walking foot.
What is it?
The walking foot is designed for sewing multiple layers of fabric without puckering.
It is very useful for sewing anything which is cut on the Bias, or silky, satin or slippery fabric.
It is also very useful when trying to matching patterns on a seam.
A walking foot needs to be screwed onto your machine.
---
---
Tip No. 3
Invisible Zipper Foot.

This foot is designed to do one thing only, help you to insert an invisible zipper.
This foot holds the rolled zipper teeth open so you can stitch as close as possible but not stitching over the teeth.
There are 2 tunnels side by side at the front of the foot is where you feed in each side of the zipper.
You must make sure that the needle position is centered in the hole of the foot.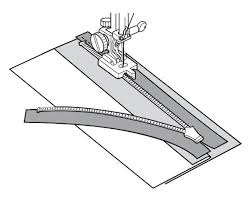 ---
---
Tip No. 4
Roller Foot
The Roller foot is designed to prevent difficult fabric from slipping, puckering or jamming under the foot, the roller rotates instead of getting stuck.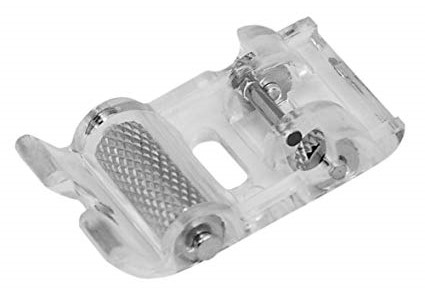 It works like the track on a bulldozer for sewing up and over thick and heavy seams yet gentle enough to glide over the most delicate silk, velvet, or fine suede without leaving a mark.
This foot is great is you are taking up jeans.