Yes you can learn to sew online?
You can learn to sew online, let me answer all  your questions about learning to sew online. 
I don't need to sit beside you as you learn to sew.
The course is well structured for the absolute beginner and well filmed it makes it so easy to learn. 
You will receive support and reassurance throughout your learning journey.
With professionally filmed video and very clear instructions you will feel that I am sitting right beside you.
You don't need to know anything about sewing to learn
Don't worry that you don't know anything about sewing because experience is not required.
This course was created for the absolute beginner,with no sewing experience at all.
Everything, except the sewing machine, is supplied
If you need to buy a sewing machine here is a guide to help you buy a sewing machine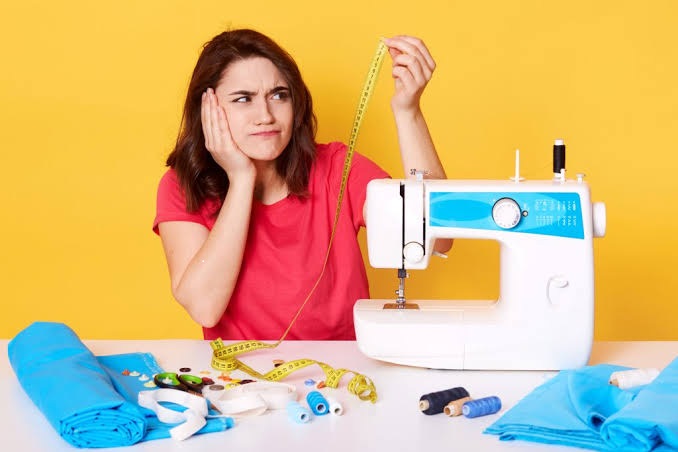 Don't be worried that you don't know how to use your sewing machine.
Don't know how to use your sewing machine?
In one of the first modules you will learn how to use your sewing machine, going through all of those buttons and dials explaining what they are for.  Then you will learn how to set up the machine ready to sew by winding the bobbin and threading the machine.
Want to know what else you will learn?
To be successful in your sewing journey you need to learn some basic skills first to  gain confidence.
You will start by getting the feel of using the machine, learning how to sew straight and in a curve, gathering, darts, zippers and so much more.
Help is always onhand 
You will get 100% support from all the way through the course.  You will be asked to submit photos of your work after each module to ensure that you understand each skill.
Making a skirt step by step
With the pattern and fabric supplied, you will go through the process of laying the pattern on the fabric learning what all the markings mean and step by step make up a practice skirt following the pattern instructions.
Subsequently you will  learn how to take measurements,  buy a sewing pattern, how to read the back of the pattern to purchase fabric.   
Being taught sequentially, you will learn to be a confident sewer. 
As this course is self-paced you can login at any time of day or night and work at a pace that suits you.
 There is so much more in this course apart from what I have told you.
You can try the first 2 modules for free, just go the beginners online course https://www.sewnsew.net.au/online-sewing-course/
You will never feel alone, you will never feel frustrated because I am always making you feel like I am right beside you guiding you every step of the way.
I hope that I have made you feel that it is possible to learn to sew online.