There are many reasons people like to sew their own clothes: it might be to wear the style that they like, to wear certain colours or to get a garment that fits them perfectly.
And as any seamstress knows, people come in all shapes, heights and sizes. Just like ready-to-wear clothes, sewing patterns also come in several different sizes to match the many different body types available. Unlike ready to wear clothing, with sewing patterns you can alter the fit to suit you.
A very important point to remember when purchasing a pattern……..Pattern sizes are not the same as retail clothing sizes.
Since we can't try a pattern on, it's important to to get the sizing right, otherwise we'll end up with a finished product that does not fit, causing frustration and a loss of desire to sew.  Investing a little extra effort in getting the size right will save us all this heartache.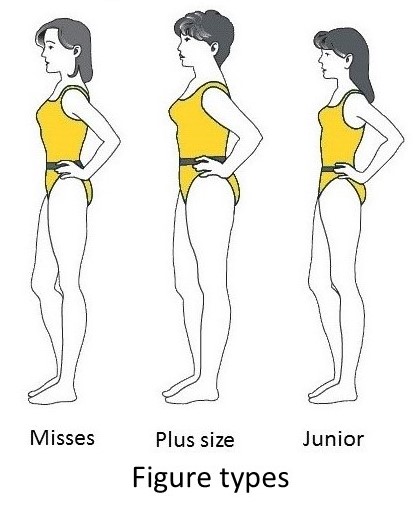 Misses.  
Is for an adult female figure that is well-proportioned and developed in all body areas. Misses' sizes are proportioned for 5'5" to 5'6" tall.
Misses- Petite.
Miss Petite refers to a proportion for 5'4" tall and under. The torso for a Petite size is shorter than that of the Misses' size. This is important, because many people don't realise that Petite is not just about height, but an overall shorter proportion. If you are truly Petite, just chopping off the excess length at the hem is not going to cut it! Also, don't make the mistake of thinking that Petite only applies to smaller sizes; there are larger-sized women out there that are still Petite or shorter in proportion.
Women's or Plus size.
This is for a larger, more fully-fashioned female figure. The sizes in these patterns have a W aster the size such as 18W – 20W – 22W – 24W – 26W – 28W – 30W – 32W
Take your measurements   
High bust / Chest – which is above the fullest part of your bust and under your arms, as per the diagram.
Bust – the measurement should be around the fullest part of the bust.
Waist – It does not matter where you wear your skirt/pants you need to take the measurement at the waistline. If you are not sure exactly where your waistline is, bend to the side and that will give you your waistline.
Hips – The hip measurement is not always at the hip bone, you need to take the measurement at the fullest part of that area which maybe the thigh area.
To determine your cup size you will need two measurements:
BUST: Measure straight across the back over the fullest part of the bust.
HIGH BUST: Measure across the back, high up under the arm and across
top of bust.
Deduct HIGH BUST measurement from BUST measurement for the difference. Using the DIFFERENCE measurement, find your cup size on the chart below.
1″  or  2.5cm = A cup
2″ or   5cm = B cup
3″ or   7.5cm = C cup
4″ or  10cm = D cup
5″ or  12.5cm  = DD cup
6″ or  14cm = DDD cup
Look for your size in the Misses or Plus Size chart below.  These charts are for McCalls, Butterick and Simplicity Patterns. You can check your size the same way with other pattern companies by using their sizing charts.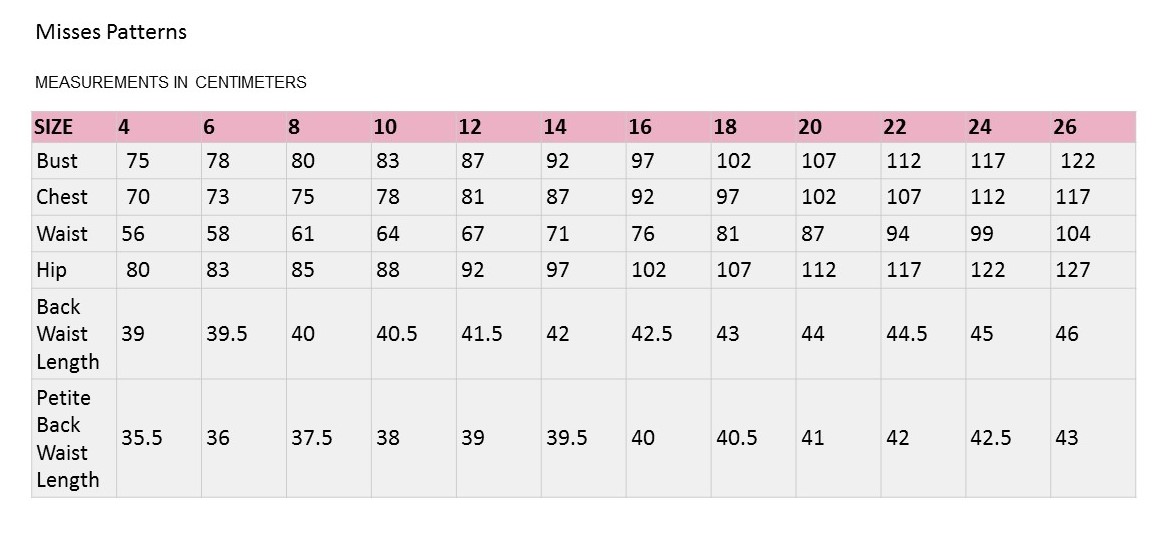 So if you are making anything that covers the bust such as a dress, shirt, top or jacket use your bust size and adjust the waist and hip. For anything waist down use your waist and adjust for the hips.
Plus size patterns usually include all cup sizes inside the pattern envelope, so you will choose your size to buy the pattern and then before cutting out the paper pieces you will look for your cup size on the paper pieces that you need for your design.