Day 1 in Hong Kong Shopping
An amazing place to find beautiful pieces of fabric.
Armed with my many drawings of garments I want to make, my passport and Visa I popped across to China for a day trip, just a short train trip away.
Shenzhen (China) is another one of my favourite places for fabric. This fabric store is HUGE and the people are so accomodating. You want it they have got it, in any colour you want. Bartering is great here and lots of fun.
There are pieces of fabric here that I have seen back home for $30 plus per metre, here just $10 per metre.
I also bought Chanel and Gucci shoes here from one of the other stores here at a price you won't believe, so its not just fabric that I shop for. Over the years I have made many contacts here in China and Hong Kong and they are only to willing to please a return customer.
Arrived back in Hong Kong at about 7pm laid all my purchases out on the bed and made a list of all the buttons, zips and anything else that I will need as my next stop is the Sham Shui Po.
Now off to the Night Markets, Dinner & Bed.
The linen below is just some of the many many pieces I bought yesterday.
What a great day.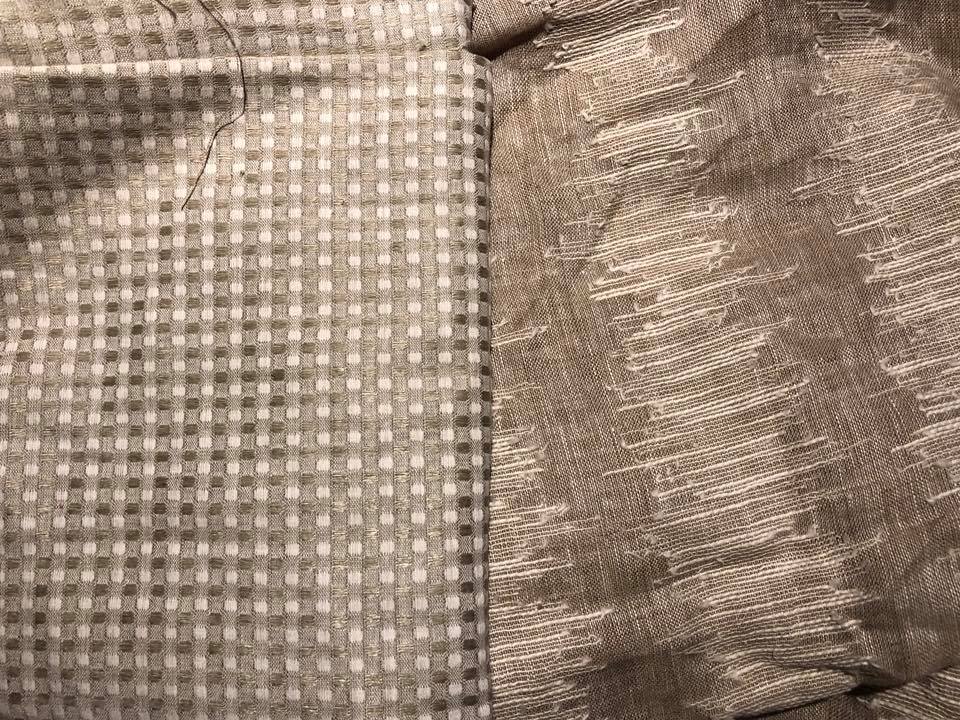 Day 2 Hong Kong
Trip to the Optometrist my friend Lisa bought two pairs of frames complete with prescription lenses, protective coating $210 Aust.
Off to Sham Shui Po just a very short train ride away.
This suburb in Hong Kong is a gold mine for any sewer.
First stop the button lady, Michelle. I have been to this place before, floor to ceiling display of buttons on every wall. I took with me samples of the fabric that I bought so to ensure that I got everything that I need for what I intend to make. I also bought anything of interest that I thought I might use in the future.
There are many other button shops here and I did browse and buy, wooden buttons that I intend to paint and decorate with my own design.
Down this same street is a shop called the Sewing shop which sells sewing machines as well as anything to do with sewing. Here I bought an arm extension for my Juki sewing machine for $20 Aust, this in Australia was going to cost me $100. In this shop I also bought high quality scissors (left handed) for $25, there were many many choices in scissors for those of you who are right handed. Lots of other goodies here too many to mention.
Trim, braid and zippers were next on my list. Shop after shop and anything you can imagine.
Final stop today was the fabric market street. Here you can buy off cuts from designers or fabric cut from the roll all from $1 Australian.
Train back to the hotel to a fantastic dinner at the hotel. They have a Restaurant with 10 cooking stations with freshly cooked Tempura, Peking duck, Roast, Chinese, Sushi, Vegetarian, desert and more all for $100 Aust.
Another great day in Hong Kong.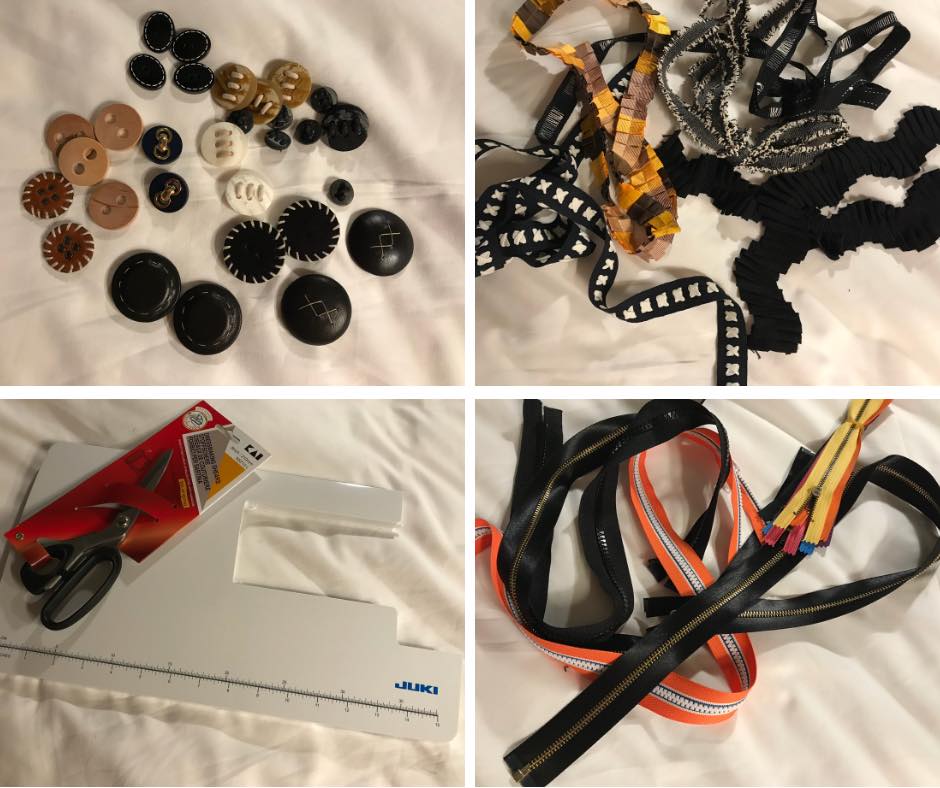 Day 3 Hong Kong
By now most would think that I would have had enough of fabric shopping but I had only just skimmed around the out side of this massive fabric shop on my trip to Shenzhen on day 1, so off we go again.
When we arrive and enter the massive fabric store the stall holders recognise us straight away (I wonder why). But I must say they are so happy, friendly and helpful but never pushy, they just want to please you.
More fabric which means the suit case will now be bursting at the seams.
Each time I have been here I have always gone straight to the fifth floor (top floor) and then gone to a restaurant on the forth floor to eat, sounds crazy but I have never seen floor 1, 2, and 3, there are over 1000 shops here but today I decided that I must at least walk the others floors.
I came across a store that sold jeans, not just any Jeans, ladies and men's Armani, Hugo Boss, Louis Vuitton, Gucci and more $60 per pair quality is great.
Went back to Suzi for more Chanel and Gucci shoes (could not resist). There are not just flats in the shoe range there are Heels, Boots, casual as well. Lots of high end brands, all leather.
There is so much to see and buy you can not possibly see all of this in one day.
5pm a quick Wonton soup and back on the train to Hong Kong.
Tomorrow we are off to Stanley which is a quaint village on the coast of Hong Kong Island.
More tomorrow.
Day 4 Hong Kong
Time for something different. Stanley is a village about a one hour bus ride from where we are staying. Taking the bus is a great way to see the scenery along the way.
Stanley is on the water and has lovely restaurants, a shopping plaza and of course the Stanley markets.
The markets are very different to the markets in Kowloon. There are a couple of very good clothing stores which produce very high quality linen garments, I don't buy here but it is nice to see what others are making and get some ideas.
There are jewellery, hats, bags, Art stalls just to name a few.
We chose one of the water front restaurants and just relaxed in the sun with good food and drink, it was heaven.
Bus back to Kowloon stopping to pick the optical glasses for Lisa that were ready and might I say perfect.
Picture of this denim fabric does not do the true colours in this fabric justice, both are double sided.
What I do with these fabrics is what will make them even more interesting,
Talk tomorrow.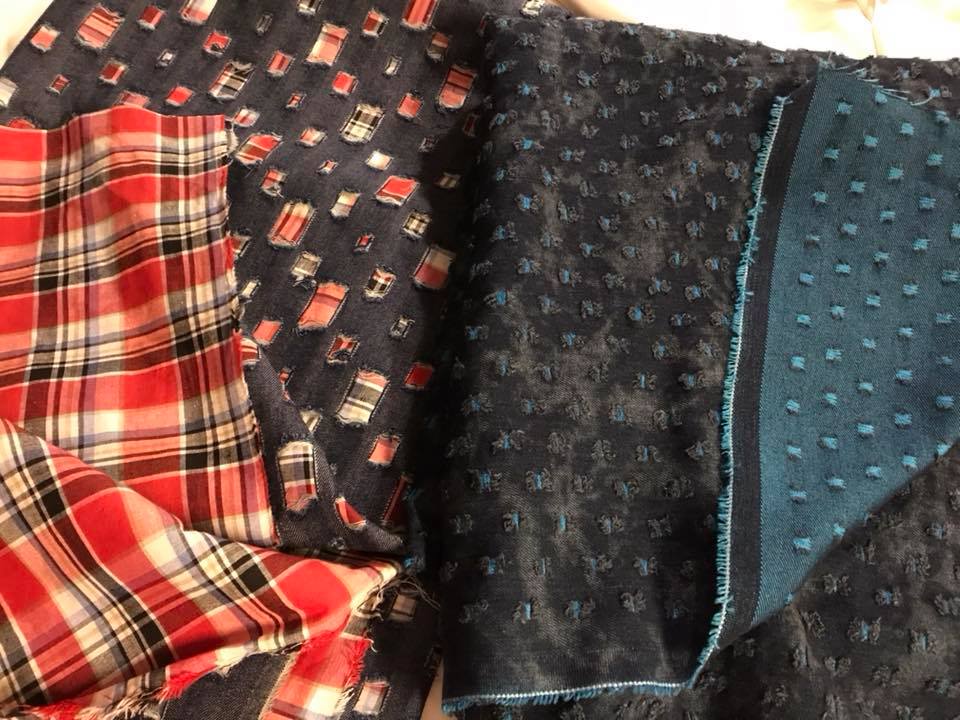 Day 5 and 6 Hong Kong
Day 5 started with a long breakfast at the hotel. They offer everything that you can imagine. Then It was a trip to the sporting goods area in Kowloon. Sports shoes, Casual shoes, sports wear all popular brands and brands that we had never heard of.
On the way back to the hotel we swing by the ladies market to pick up Batteries packs for mobile phones…Bargain. (For charging phones when you are on the go).
Martini Espresso in the Garden Terrace and a rest before our amazing dinner at Aqua.
Day 6. Off to pick up my Marc Jacobs prescription glasses from the highly recommended Mr. Chan. It's now back to Sham Shui Po for more buttons. I have always wanted to paint my own designs on wooden buttons but could never find the wooden buttons I wanted to do this. The button Company here had so many all different shapes and sizes. I also picked up many others to add to my collection that I had already bought.
We then hopped on the train to go to Hong Kong Island to visit the Western Market, this is not really a market it is the name of the building, there are fabric stalls on the top floor. The Fabric here is more expensive but very very good quality.
Lunch time…As we sat eating lunch I pondered if I should visit a company called Tessura Fabrics, they are very pricey but they have beautiful linen from Switzerland, Austria and Germany. They also stock woollen and hand beaded fabric from Givenchy, Chanel, Dior just to name a few. I have looked at there website many times and wanted to buy but wanted to see touch and feel the fabric first. This was my opportunity. A quick phone call for the address and back on the train and a brisk walk up hill and we were welcomed by the lovely ladies at Tessura. Such beautiful fabric and trim, like nothing I had never seen before even in all my years doing bridal. Some of these fabrics were priced at $1200 Aus per mtr.
BUT unfortunately not all the stock is kept in Hong Kong and the stock that I wanted to see was not there. The lady felt so bad she started showing me lots of different things most of which I would not wear as it was for evening wear, then something caught my eye it was something that I would cut up and use for embellishment, the lady told me that it was damaged but that didn't matter to me as I wanted to use the part that was not damaged. The fabric was usually $1200 per mtr but as it was damaged I could have it for $150…..sold.
Long day so back to the hotel drop off the shopping a quick wonton soup and now for something I always do in Hong Kong FOOT MASSAGE, I always go to the same place it is heavenly.
Tomorrow is our last day to will be sad to leave but it is time to go back home to reality.
I love what I do and cannot wait to get back to teaching and start designing and making garments with all the fabric and haberdashery that I have purchased.
I hope that you have enjoyed reading about my Fabric and shopping adventure in Hong Kong. Perhaps you would like to come along next time.
Pictured below a Shrug which I intend to make with the fabric on the right of the picture.