What is a Walking Foot used for?
The walking foot is designed for sewing multiple layers of fabric without puckering. It is very useful for sewing anything which is cut on the Bias, or silky, satin or slippery fabric. It is also very useful when trying to match patterns on a seam.
When attaching a walking foot to your machine, you must position this movable bar so it rests on top of your machine's needle bar. As the needle moves up and down while you sew, the walking foot's teeth will move correspondingly in sync with your machine's feed dogs underneath the fabric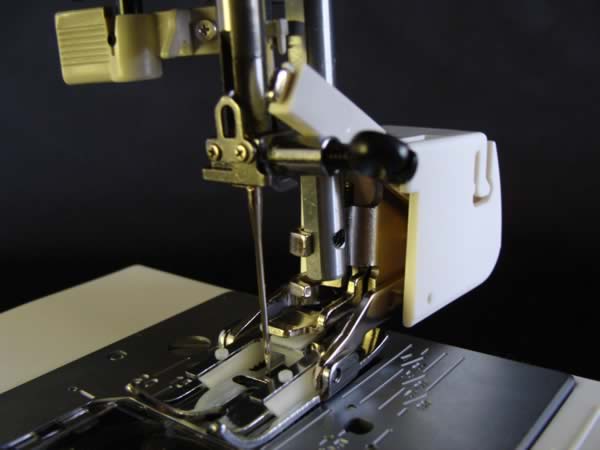 When to use a walking foot for garment sewing.
1. Traversing bulky seams
One of the benefits of a walking foot is that its extra set of teeth help the foot climb over bulky seams, such as where a waistband meets the side seams of a skirt or where the fly opening meets the crotch seams.

2. Topstitching bindings, hems or plackets
Have you ever noticed mysterious drag lines within your hem or button placket after you topstitched it down? Sometimes a blast of steam helps settle the fabric, but sometimes the problem persists.
Even with careful pressing beforehand, when a layer of fabric is folded under and topstitched, a normal presser foot may scoot that top layer at a faster speed than the bottom layer. The risk for this is higher when you're stitching farther away from the folded edge, such as on a deep hem. A walking foot helps keep all layers even so you get nice, flat edges.

3. Matching plaids, stripes and other prints.
Likewise, a walking foot helps when sewing a garment that has a pattern or directional print that needs to be matched across major seams. If you take the time to cut and pin your pieces so the prints will align nicely across seams, using a walking foot ensures that it will be sewn that way.

4. Sewing knits
Because of the stretchy nature of knit fabrics, they have a tendency to move under the presser foot whilst you are sewing. This is especially true when you're sewing along the direction of stretch, such as on the hem of a T-shirt, or sewing with very stretchy fabrics, such as rib knit. A walking foot helps move knit fabrics evenly so they don't stretch out of shape.