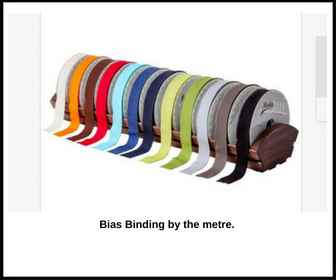 Bias Binding – What, Where & How
Bias Binding or Bias tape as some pattern refer to it as, has been around for as long as I can remember.   In high school had used it to edge as apron.
It is not something to be feared, in the video below I am going to show you how to attach it.   Once you understand the stuff you will LOVE it.
What is it?
Bias tape is strips of fabric that have been cut on the bias of the fabric (corner to corner diagonally). Packaged bias tape may be purchased in various widths, the width of the bias binding tape is a variable depending on what you are using it for.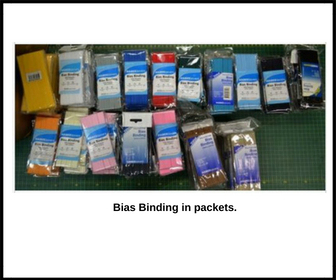 Bias binding can be purchased in a packet like this. Usually about 5 metres to the packet. I would only by this much if I new I was going to use it, especially if it is a colour that you would not use a lot of.
The colour range is huge, you can almost match any coloured fabric that you are using. There are different widths for different purposes.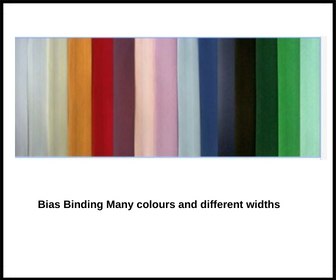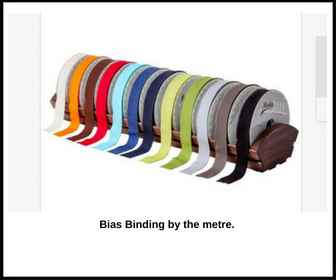 Poly cotton Bias binding can be bought by the metre so you do not have to buy a packet.  (left)
You can also buy Satin Bias binding by the metre for edging or decorative purposes.  (right)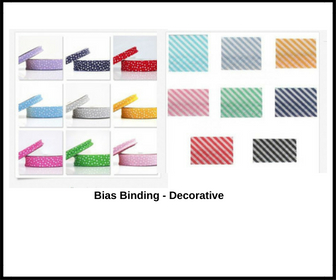 There are a lot of beautiful decorative bindings out there some are difficult to get locally but if you look on Ebay you will find many that yo can purchase. Polka dots, striped, even stars and much more.  Many colours and widths. All it needs is your imagination.
How to make your own Bias Binding.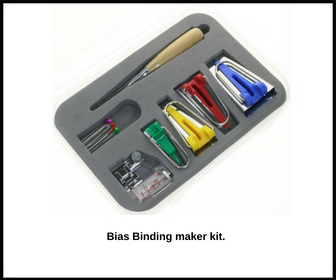 This is a great kit that can be purchased on E bay for about $15. You can make different widths of binding, it comes with the tools to help poke through the fabric, also it has a binding foot for the sewing machine.  Personally, I think that it is easier to sew with the ordinary machine foot.
Watch my video on:
What is, Where to use, How you can make, and How to attach
Bias Binding