'Wide leg' pants are being marketed as the new trouser trend!! I smiled broadly when I read this headline as such trousers were around in the 70's and were previously known as flares or culottes.
This pant has made a big come back this year. They are a very versatile pant that can be as casual as a pair of PJs or as dressy as a formal outfit depending on the fabric. The waist line can vary from a draw string, elastic, to a fitted waistband.  They can be high or low rise and still be very comfortable.
This is a great garment for a beginner sewer to make as it uses basic skills taught in my beginner course. The overall look will depend on the chosen fabric. A PJ's sewing pattern ( see below ) could be used for a wide leg pant; all you need to do is make the leg part of the pattern wider. For a more formal look you can widen the leg on a trouser pattern and add a waistband or a yoke to the waist area.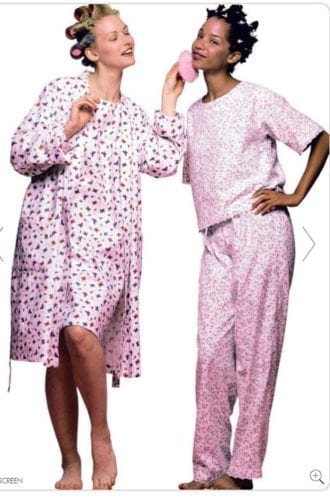 McCalls PJ's pattern number M2476
Not only make some PJ's but also widen the leg of the pant, keep the draw string, or add elastic and – WOW! – you have a wide leg pant. You could also use the top in this pattern to go with the pants.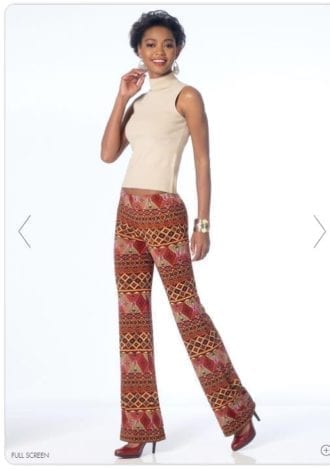 McCalls pattern number M7198
Dressy but casual. Low rise pants pattern. Again widen the leg, add a yoke or a waistband, and you have a whole new look.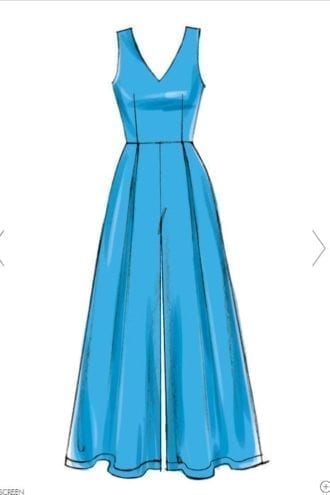 McCalls pattern number 7608
Again 2 patterns in one. How good would this look as a pair of pants? Forget using the top, add a waistband to the pants and you'll add the wow factor.
If this process of widening pants seems a bit daunting don't worry, you could always take my pattern design short course. There are many types of fabrics that you can use to make this pant: it just depends on the look that you are trying to achieve.
Charmeuse:  is a lightweight fabric that is soft and drapes beautifully.  It has a satin side and a matte side, and either side works. The satin side has an appealing sheen, using it on the inside creates a slippery, luxurious feel against the skin. Charmeuse fabric is perfect for the wide leg pant that will be worn in the evening giving you a very chic look.
Lightweight Linen: is a breathable fabric with an airy feel. Great for warmer weather. It has a translucent nature, and gives that fresh summer look to your wide leg creation.
Medium weight linen: Now wouldn't this look amazing, strutting into the office in a wide leg pant made from this linen suiting. Breathable and virtually sweat-proof, the medium weight woven linen is perfect for both summer and winter. It has a crisp hand and a stiff drape to create a flawlessly tailored look. Pencil stripes provide a retro 50's vibe. You can insert a lining for additional structure and extra warmth in the winter.
Rayon Fabric is a lusciously soft but durable material, with better absorbency than cotton. Though it's made using chemical processes, all the manufacturing components are natural. It is a little known fact, that Rayon Fabric is actually biodegradable and, therefore, more eco-friendly than other textiles. This material is crafted from wood pulp in the form of purified cellulose fibre. The pulp is converted to a soluble compound, which is then dissolved and inserted into a spinneret to form the new refined fibres. With its outstanding durability, absorbency and softness, this alluring Rayon Fabric is perfect for a pair of wide leg pants.
I would love to know if you have ever made a pair of wide leg trousers or worn them. I never thought that I would wear this type of pant but recently made a pair and I love them.